Search
Uta no☆Prince-sama♪ Movie: Maji Love ST☆RISH Tours English Subbed and Dubbed
Description
With the great success of "Maji LOVE LIVE Kingdom," the members of ST☆RISH have been busy with their idol activities. However, while their success has brought a sense of fulfillment, they began to have feelings they never felt before. "What do we do from now on..." At that time, a call comes in from the Shining Office summoning everyone to receive a "reward." What is it...? This is the behind-the-scenes story of ST☆RISH, connecting "Maji LOVE Kingdom" to the "Maji LOVE ST☆RISH Tours."
Genres:
Alternative Names
UtaPri Movie 2, Uta no Prince-sama Maji Love Starish Tours Movie; 劇場版 うたの☆プリンスさまっ♪ マジLOVEスターリッシュツアーズ
Type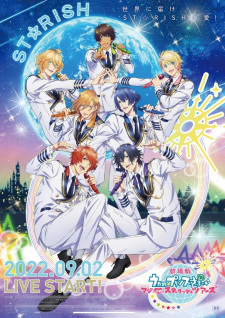 Episode List
Select Uta no☆Prince-sama♪ Movie: Maji Love ST☆RISH Tours English Dubbed Episodes in high quality for free. choose your desire episode number below.
No available episodes as of yet.