Search
Psycho-Pass: Sinners of the System Case.1 - Tsumi to Batsu (Dub) English Subbed and Dubbed
Description
A runaway vehicle driven by Izumi Yasaka, en route to the Public Safety Bureau building, is reported shortly before it crashes into the building. Izumi is a counselor who recently ran away while working at a latent criminal isolation and rehabilitation facility known as Sanctuary. Before Inspectors Mika Shimotsuki and Akane Tsunemori get to interrogate the suspect, a sudden request is issued from the facility to promptly bring Izumi back. Interpreted as a direct order from the Chief and the board at Sanctuary, the Inspectors obey, but insist that Izumi be escorted back personally. Tsunemori intends to investigate further with the rest of the team at the Bureau. Now Inspector Shimotsuki has finally been given the opportunity she had been waiting for—to be the primary investigator on an important case. This case follows Shimotsuki and her team of Enforcers as they uncover the secrets of Sanctuary.
Genres:
Alternative Names
Psycho-Pass: Sinners of the System Case.1 - Crime and Punishment, PSYCHO-PASS サイコパス|SS(Sinners of the System) Case.1「罪と罰」
Type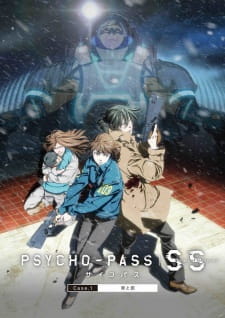 Episode List
Select Psycho-Pass: Sinners of the System Case.1 - Tsumi to Batsu (Dub) English Dubbed Episodes in high quality for free. choose your desire episode number below.
No available episodes as of yet.