Search
Nanatsu no Taizai: Mokushiroku no Yonkishi English Subbed and Dubbed
Description
Percival has always lived with his grandfather on God's Finger, a remote haven that sits high above the clouds. And though he loves the simple life, he secretly longs for adventure. But Percival's life is changed forever when an intruder—who shares a shocking connection with him—tears away everything he's ever known. With nothing left to do but chase down the one who took everything from him, Percival sets out on his own. During his journey, the sheltered boy discovers that there are a lot of things he doesn't know about normal life. Luckily, he meets friends along the way who can help him get by—but how will they react when they find out about Percival's destiny... and how it's connected to the end of the world?
Genres:
Alternative Names
The Seven Deadly Sins: Four Knights Of The Apocalypse; The Seven Deadly Sins: Four Knights of the Apocalypse; 黙示録の四騎士
Type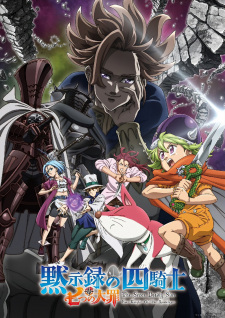 Episode List
Select Nanatsu no Taizai: Mokushiroku no Yonkishi English Dubbed Episodes in high quality for free. choose your desire episode number below.