Search
Ame wo Tsugeru Hyouryuu Danchi English Subbed and Dubbed
Description
Kousuke and Natsume have been friends since childhood, but as time goes on, the relationship between the two sixth graders seems strained as they keep avoiding each other. One day during the summer vacation, they visit a housing complex that is scheduled to be demolished. Having grown up there, the place holds a lot of memories, but while playing, they suddenly get caught up in a mysterious phenomenon. When they regain consciousness, they see an entire ocean before them as the housing complex has drifted into a mysterious sea with Kousuke, Natsume, and others in it. Will they be able to return to their previous world? A summer farewell journey begins...
Genres:
Alternative Names
Drifting Home; 雨を告げる漂流団地
Type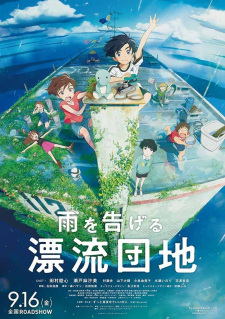 Episode List
Select Ame wo Tsugeru Hyouryuu Danchi English Dubbed Episodes in high quality for free. choose your desire episode number below.