Search
Lupin III vs. Cat's Eye English Subbed and Dubbed
Description
Lupin III, the great phantom thief—the man who loves freedom and lives in romance—never fails to steal his prey. The Cat's Eye are the ladies who run the night splendidly and create commotion in the world. They are sometimes phantom thieves, other times three beautiful sisters who run a café. The mutual target is "Three Paintings"—which were left behind by the three sisters' father, leading to the dream showdown between Lupin and the Cats. Amidst the mix-up of the charming characters, the story eventually leads to the amazing "secret" hidden in the picture... A retro and stylish exhilarating crime action unfolds!
Genres:
Alternative Names
Lupin the 3rd vs Cat's Eye; ルパン三世 VS キャッツ・アイ
Type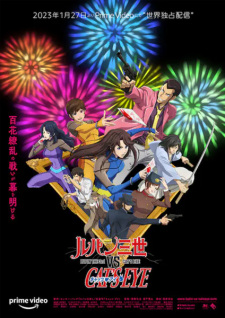 Episode List
Select Lupin III vs. Cat's Eye English Dubbed Episodes in high quality for free. choose your desire episode number below.
No available episodes as of yet.